The estate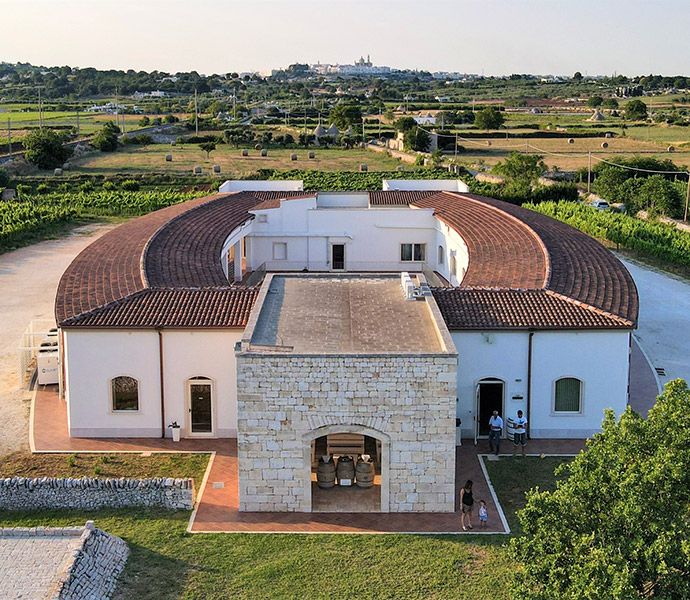 "Pastinum" in Latin literally means 'hoe' and, derivatively, 'land destined for vine cultivation'. Using the pàstino tool to shape the small earthen dam necessary to collect the rainwater in this barren land of Puglia, then as now, is an ancient and difficult art.
I Pàstini winery combines ancient winemaking traditions and modern wine-making techniques to produce wines that express the authentic face of a unique territory.
It is run by the Carparelli family on a 15-hectare vineyard with the aim of recovering and enhancing ancient native vines: Verdeca, Bianco d'Alessano and Minutolo are the white varieties; Susumaniello and Primitivo are the red varieties. Extraordinary vines that confirm the area's ancient viticulture vocation.

I Pàstini winery has always embraced the philosophy of quality.
We produce wines only from native grapes grown in the heart of Valle d'Itria in strict respect of the environment.
The vineyards are treated exclusively with organic products and fertilized with green manure of various leguminous species.
The harvest takes place in the early hours of the morning. The grapes are harvested by hand to prevent the berries from breaking and after a careful selection of the bunches, they are placed in small crates. The extract of the pre-cooled grapes, obtained by soft pressing, ferments at controlled temperature and then follows its maturation process until bottling.
Our wine is a tribute to this successful combination of tradition and technology, an authentic expression of the territory.